Harmony - Magnetic Balance Lamp
A Source of Light and Joy
Enjoy the benefits of having a desk lamp that not only provides lighting but also looks aesthetically pleasing and relaxing to the eyes. 'Harmony's' minimalist charm and its fun lightswitch design will definitely make it the focal point of your room.
Balance and symmetry. These are the two ideas that inspired 'Harmony's' minimalist design. The delicate balance displayed makes you feel calm and at ease. Its elegant beauty makes it a welcoming addition to any space.
☑️UNIQUE & INNOVATIVE DESIGN – With an exclusive design, you can be sure that this lamp will stand out in any room it's in. Watch the two magnetic spheres balance right in the middle of the lamp. It's like watching two planets bound by each other's gravitational pull. A mesmerizing, subtle display of universal balance – of perfect equilibrium.
☑️NON-TRADITIONAL SWITCH – Its non-traditional switch is the highlight of this magnetic lamp. Simply hold the lower circular magnet to meet the one suspended on top and let the magnetic pull light the rest!
☑️MADE WITH HIGH QUALITY MATERIAL – Rest assured that what you're paying for is made with top quality material. We chose just the right wood and ABS material to ensure that you'll be living at ease with 'Harmony' by your side for a very long time.
☑️EYE CARE & LONG LIFESPAN – With 48 LED light beads, 300 lumens, 50,000 hours of companionship, 3500k color temperature warm light for your eyes and environmental protection materials, it is sure to bring a warm, peaceful atmosphere to your home.
☑️PERFECT GIFT FOR ANY OCCASION – You can bet that the person receiving this magnetic lamp as a gift will fall in love with it – and with you! It's the perfect gift that you can give to your family and friends no matter what the occasion.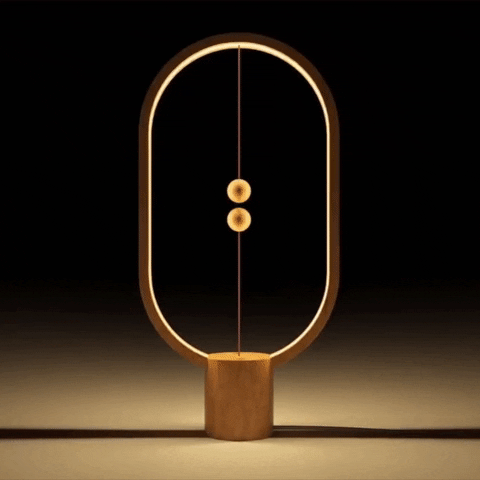 Harmony is in High Demand and Currently Unavailable in Stores!