Pillar of Eternity
Pillar of Eternity is a Handcrafted, Magical Bismuth Sculpture that Levitates a Lone Magnet Permanently in Mid-Air
To see a world in a grain of sand
A heaven in a wild flower
Hold infinity in the palm of your hands
And Eternity in an hour 
―William Blake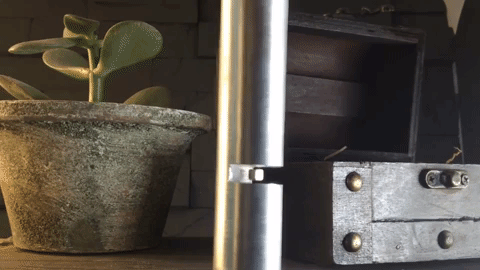 Imagine a little oasis, an eternal sanctuary completely free from our planet's overwhelming gravitational force. Pillar of Eternity is a permanent magnetic levitation model that requires no electricity – ever. To set this lone magnet free, our designer at GRVVTY capitalized on the little known force of bismuth called diamagnetism.
Balance. This was the main inspiration behind 'Pillar of Eternity's' minimalist design. Watching the lone magnet balance majestically in mid-air is a trance-inducing experience. Everytime you look at it you will feel calm and at ease. And knowing that, if left undisturbed, it will keep floating there for over one hundred years will have you contemplating the meaning of time. You will look at it only for a moment, but in that moment you will perceive Eternity.
Place it near you while you study or work to know that Eternity is just a glance away.
Here are some more reasons you'll love this piece of art for Eternity:
HANDCRAFTED AND INNOVATIVE DESIGN – With this handcrafted, exclusive design, you can be sure that this beautiful piece of art will stand out in any room it's in. Watch the lone magnet dance freely in its eternal sanctuary. Its a mesmerizing, subtle display of universal balance

 

– of perfect equilibrium.
FLOATS INDEFINITELY IN MID-AIR

 

―

 

The magnet between the bismuth crystals really is floating there freely, touching nothing but air, and it will stay that way until you disturb it.
THE MAGIC BEHIND THE DESIGN ―

 Pillar of Eternity is 

solid bismuth, and achieves perfect balance with this amazing metal's force. 

How? Bismuth is diamagnetic, repelling both of the magnet's poles' (North and South) equally. The base supports a special array of magnets. This creates a magnetic field that works with the bismuth's diamagnetism to hold the little magnet in a small pocket of stability. 

THE PERFECT SCIENCE AND SPIRITUAL GIFT

 

―

 This is the perfect gift for those looking to create a sense of peace and mindfulness in their lives

. It's also the perfect gift for those enthralled with science and physics. You are going to create an everlasting memory with the person you give this to. They'll cherish it (and You!)  forever. It is truly a timeless gift.
HERE'S HOW IT WORKS:
Place the sculpture on a level surface
Slip the cube magnet in the open notch
Watch it float and dance freely for hours…days…years, it's up to you. 
What you will receive:
‌Includes one made to order sculpture with magnets
‌Measures approximately 6" tall and 5/8" in diameter 
Two- 3mm magnetic cubes
Two- 4mm

magnetic cubes

One- 3mm magnetic sphere
‌2 Science Gift wrap options available - (Astronomy table/black and Illustrated Magnetic Fields/blue)
FREE SHIPPING WORLDWIDE
We will ship all of our Bismuth Levitation Art within 5 business days. Often sooner! 
Our guarantee
We truly believe we make the best products in the world, and to back that up we want to offer you an ironclad risk-free 30 day guarantee. 
If you don't have a positive experience for any reason, we will do whatever it takes to make sure you are 100% satisfied with your purchase.
If you are worried that you may not like the product, we want you to realize there is absolutely zero risk in buying it and trying it out. If you are unsatisfied with your purchase, we will make it right.
We have 24/7 email support. Please contact us if you need assistance.