Tranquility Air Bonsai
Tranquility is a new magnetic, zero-gravity system that allows you to care for your bonsai in mid-air.
"Any sufficiently advanced technology is indistinguishable from magic." –Arthur C. Clarke
Tranquility is a perfect, magical mix between nature and technology. Imagine walking into a room and seeing beautiful bonsais floating majestically in mid-air. You will be awestruck by the beauty of the cosmos.
The inspiration behind these air bonsais was none other than our beloved home, the little planet we call Earth – floating quietly in this vast, ever-expanding universe.
Bringing this picture to mind, we feel calm and at ease. We're comforted by the reminder of our unique, inter-connected existence in this boundless, 'breath-giving' world of wonders.
Let your home reflect the universe.
☑️360 DEGREES OF SUNLIGHT – With its rotating mechanism, you'll be able to provide even more love to your floating plant, allowing it to receive 360 degrees of sunlight 365 days a year.
☑️GROW TALLER AND HEALTHIER PLANTS – Studies have shown that plants near magnetic fields tend to grow taller, faster and healthier. This was measured by comparing the plant height, leaf size and other varying factors contributing to plant health.
☑️ENGINEERED TO PERFECTION – Our team of highly qualified engineers went to great lengths to ensure that your levitating plant is able to float non-stop, all year round. Rest assured that what you are paying for is the best, most reliable maglev technology.
☑️CREATE A BEAUTIFUL ATMOSPHERE – A beautiful object can totally transform the mood of your room and of your state of mind. Place Tranquility in any room and a sense of balance, spaciousness and overall pleasantness will come with it. Having it by your side as you read, study or meditate is going to be a magical experience!
☑️THE PERFECT GIFT FOR ANY OCCASION – Anyone who receives Tranquility as a gift will fall in love with it – and with you! A bonsai is always a nice gift – but one that floats? It's the perfect gift no matter the occasion. Just watch their eyes and see how they light up!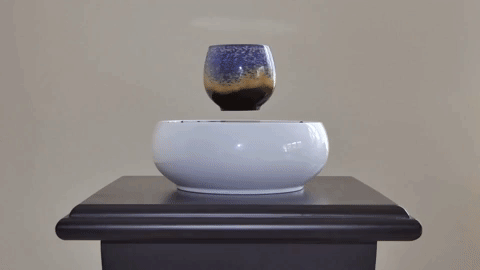 Due to shipping restrictions the plants/bonsais pictured are not included.
Tranquility air bonsais are not available in stores, so hurry while supplies last!